Porter Cable is the pinnacle of great craftsmanship in the industry, so it is no surprise that they can make competent compressors. This thing is really the bee's knees and is recommended over higher capacity models out of their same lineup. It's really hard to find a 3.5 gallon compressor that is still portable like a PORTER-CABLE PCFP02003 air compressor, with even the models listed as portable being a beast to carry around. Both the weight and size are matched up to offer great balance, and can fit anywhere. You can put this in your car or truck without it taking up too much space, or just throw it in a closet and tuck it away for when you really need it. For a model of this size, it is about as small as you're going to get without compromising power. And you know how the cheaper portable units say portable but grind into your hand when carrying or pulling due to the bad ergonomics? That's not the case with this model, as the handle is snug enough to carry its light 26 pound frame around without cutting your hands. Dimensions are 18.1×17.2×18.5 if that helps you plan for where to store it.
Using PORTER-CABLE PCFP02003 135 PSI compressor
Operation Is Smooth
Using just a 1000 watt generator, the unit can run just fine. And you can even use less wattage and get similar results, though your mileage will vary. Even at peak operating volume it does not have the wall shattering loudness of its peers. This is due to the 120v motor that isn't underpowered, but just right for what this little machine can accomplish. PORTER-CABLE PCFP02003 is quiet enough to use it in a home environment without disturbing the next room too much. And in the case of having a baby in the home this will probably be the least offensive unit of them all. Build quality also plays a role in how quiet it is, and as this is indeed one of Porter-Cable's best. Thinking of the amount of time they put into cramming all of this power into a small frame, it could have gone the other way completely-but everything is solid even in environments where the room is empty and there is noticeable echo. Inflating tires on numerous toys or vehicles won't nearly be as taxing as it is with a larger unit. And with a prime recharge time it won't take as long either.
The Envy of Friends
Don't be surprised if your friends call you more now that you have the best portable air compressor on the block. It is the easiest pack up and go compressor you can get, so bringing it to a friend's house or to a job assignment is like bringing a backpack. Marina workers will love it the most if your work area calls for a lot of walking. Navigating from one side of the ship to the other with this model is a lot easier than with larger versions. Workers will understand soon just how much of a difference there is with a 60 gallon compressor compared to this little one. And with a 2 minute recharge time to fill and shut off there is more work being done per hour. I've had great success using it in home painting projects when multiple users at once were needed per unit. Since the price for this buy is so low, we purchased 3 of them and was able to have 6 people get the job done in no time flat. The cost savings upfront is nowhere near what you will save after years of using the product.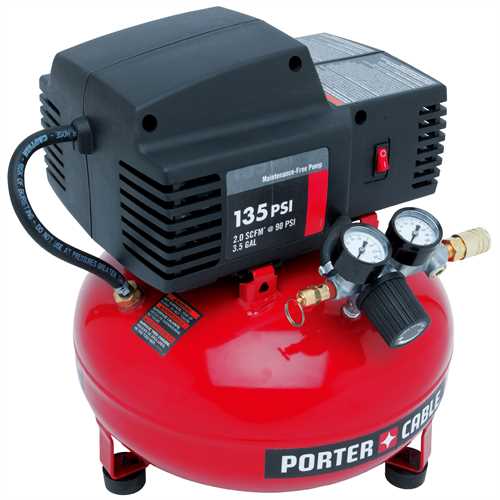 Just How Portable?
Portability isn't just related to how well the product can be moved and stored, but also to the features that make it a pick up and go air compressor. Usually the quick disconnect fittings on smaller models tend to be cheap, but they are pretty rock solid. They won't break off even with extended usage, and for those that are truly unsatisfied, it's quite easy to replace them with better quality fittings. It is a quick hack that a person of any level can apply, and one that will be great to keep backups for. With the right setup PORTER-CABLE PCFP02003 compressor could hold up to 120 pounds of air, and maintain that level for up to a month and more. This is an important note for those that will be using it constantly and want to maximize the usage. You're going to maximize the performance of this model pretty quick if you set it up right the first time, as that first day setup can last for multiple jobs before you need to configure it again. Bigger tools that plug into it will take a lot out of it, but will recharge so quick that you won't notice the hit.
Check The Latest Price On Amazon.com >>
Conclusion
Installing the product to work with my tools was a breeze, and applying the hack to the fittings (just because) was a fun experience that I would recommend to any DIY fanatic. The box it came in wasn't anything special, but who is expecting a wow factor out of the packaging of an air compressor? Of note is that the manual is pretty barebones, but if you've used a compressor before it will be a straightforward process.
With the current price the only comparable portable air compressor is from Fineed and Tooluxe, and to be quite honest they are barebones and weak. This is about the only air compressor on the market that is low priced and offers great power and storage capabilities, if you are remains dissatisfied about the price of it, refer to Kensun YS-205. The only disadvantage is the gallons, but most users know that going in. You're not going to keep the portability of the unit and add on 6-7 gallons. It is a small tradeoff that works to balance out the product, and it is an appreciated touch considering they could have charged twice as much for this model. In its current state PORTER-CABLE PCFP02003 is highly recommended for all types of projects, even if you just need an air compressor as a backup.