For those in the business of live event showcases, being able to properly convey your message through stunning visuals is an absolute necessity.
Anyone who spends time at trade shows or marketing events knows the importance of quick, effective visual impact that draws in potential customers before the presenter even says a word.
This is particularly true for those working touring events where the display must be consistent in each location.
The best way to do this is with modular exhibition stands. When you have to set up your event quickly, execute it flawlessly and professionally, then tear it down and move it to the next town, modular exhibition stands are the most convenient display option. For marketers, they offer the ability to get your message across without having to repeat yourself over and over again as the display will be custom built to your specifications. They are visible from afar and can be an effective way to draw repeat views of your company's logo. There is not a better option for maximizing visual impact.
What is a modular exhibition stand?
Modular exhibition stands are large-scale display pieces designed to display the desired content of a business or presenter. They have many benefits over traditional exhibition stands. First and foremost is the fact that they can be easily torn down and reset very easily. They are also more environmentally friendly than traditional stands because they are carbon neutral and in some cases, recyclable. They are lightweight and bright, and can be made to display any logo, image, or text needed. Most modular exhibition stands are between 20 square feet and 75 square feet.
Graphics are printed directly onto the display and can be easily customized. Adding furniture to the display is easy and will not harm the base. These displays are typically cheaper than multi-piece custom built displays and will last longer if taken care of. Flooring is available but not required- be sure to analyze the ground surface at each location that you plan to set up the display.
How do they set up?
Typically, your modular exhibition stand will come as a kit with set up instructions. The display is all put together and basically just needs to be expanded. Any pieces designed to connect one display piece to another will be clearly noted. Be sure that the modular exhibition stand is in the desired location of your display prior to setup.
Any additional pieces may come rolled up or be otherwise separate. Set these up last. Unroll them and affix to the proper stand for display. If they are firm wall pieces, they may not need to sit in a stand- they will typically be able to stand on their own.
Best strategies for effective displays
You will want people who view your display to get the most important information right away. Company name, logo, and slogan should be prominently displayed at the highest point of the display and in the front. Any information that identifies your market or target audience should also be easily viewed right away. Once potential customers have processed this information, your next responsibility is to draw them into the exhibit for further reading. Large landscape-style images or scene-based photography can work very well. Have catchy, fun displays with images and pictures to accompany any text. Make sure that all text is in a large enough font that it remains easily readable for those with bad eyesight. The same goes for the content of the text on your modular exhibition stand- it should not read above a third-grade level. Your primary goal as a marketer at these events is to make sure potential customers remember your company and why it will benefit them or their business.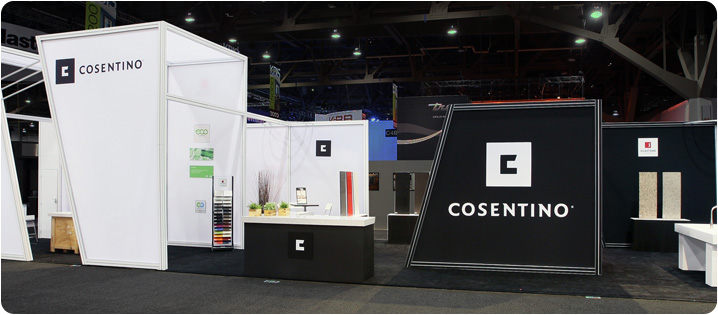 For the color scheme, use something simple. White and other bright colors are best for catching the eye of those walking by and drawing them in to learn more. Do not overdo it- simple is best when it comes to the background colors on your modular exhibition stands.
Having a display that answers frequently asked questions will help put potential customers at ease right away. When people view this display, approach them and ask if they have any additional questions. This is a great time to have them sign up for an email list or for future contact- which should also be prominently displayed at the front of your modular exhibition stand display.
How does the modular exhibition stand break down?
To break down your modular exhibition stand, begin from the top. Take apart any non-attached display pieces and place them back into the containers they were originally stored in. As far as the display itself, it will basically be a reverse operation of setting up and should not take long at all. Once everything is packed up, your team can easily load the modular exhibition stand out of the venue.
Storage
Modular exhibition stands can typically be stored in a portable compact storage unit designed to fit your specific stand. Once the display is broken down and stored, these units can be moved and shipped with minimal labor investment and effort. Depending on the size of your display, it can be stored in a garage, storage unit, or in the case of a very small display, inside the office building.
Why buy a modular exhibition stand now?
As you can see from this article, modular exhibition stands are much more efficient than typical portable exhibition stands and displays. Because they can compact themselves down and remain in one piece, set up and break down are quick and easy. Everything can be stored together and there is no need to worry about losing a piece of the display or about something breaking.
Modular exhibitions stands can be customized to represent your brand consistently and effectively at each marketing event you go to. Also, they can be left erect for long periods of time without the user having to worry about pieces going missing.
Having a modular exhibition stand for your marketing events is the easiest way to establish brand consistency and maximize the return on network marketing.