The Schumacher SC-1200A/CA SpeedCharge 2/8/12 Amp Charger/Maintainer/Tester is a popular 6V/12V charger with 12 amps. It is a battery charger that is completely automatic and is controlled by a microprocessor. Offering charging applications of premium quality, this charger has a voltage detection for 6V/12V.
This charger offers 3-amp for the purpose of simply maintaining a charge, 6-amp for medium charging applications and 12-amp for rapid charging needs. It also has a digital display. Also, this unit has a reverse hook-up protection that will keep the charging unit from operating if the clamps are reversed. It also offers float mode monitoring. It is an eco-friendly and energy efficient charging unit.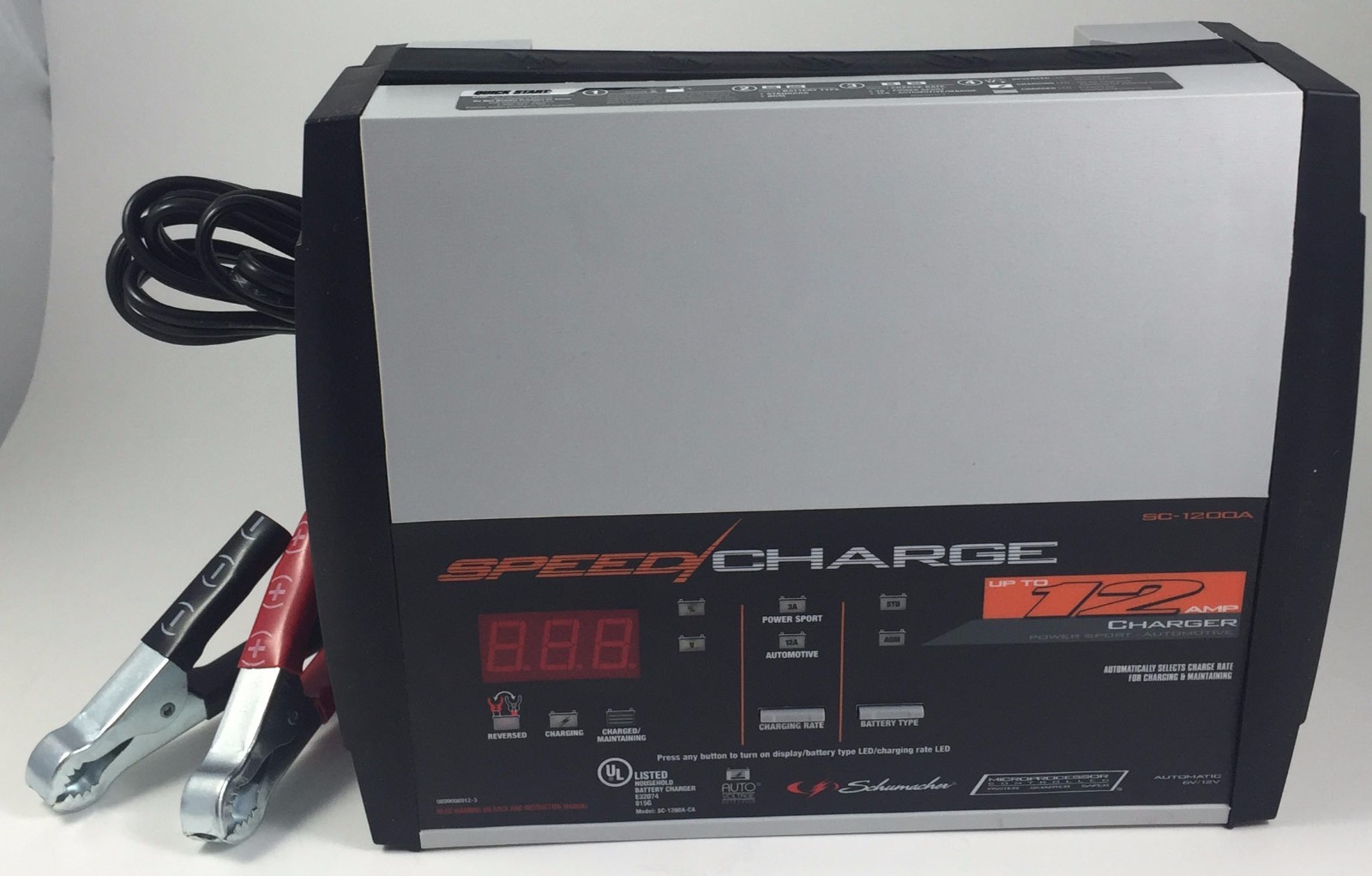 A Different Kind of Charger
While there are many portable chargers available on the market, this particular device stands out. Compared to conventional chargers, this unit charges batteries twice as fast. In addition to having advanced technology to speed up the charging process, it can automatically adjust its amperage rate in order to not only maintain, but also charge batteries in an efficient manner. It has 50-amp clamps that are compatible with both side-mounted and top battery posts.
The charger's design features LED indicators that are easy to read and understand the charging status. In addition to auto batteries, the charger can be used for deep-cycle, gel cell and AGM batteries. As a portable charger, it is easy to transport with a sturdy, retractable handle that can be used to wrap the power cord and clamps which make it even easier to move from place to place for use.
Automatic and Controlled by a Microprocessor
The charger is controlled by advanced technology in the form of a microprocessor, which enables multi-stage charging with added precision. It offers added safety, absolute precision and extended battery life. Offering charging twice as fast for batteries for cars, utility vehicles and motorcycles, this charger is more dependable than the standard conventional chargers. It will switch from continuous charge automatically to float-mode monitoring, enabling the charger to maintain your battery after it is fully charged. When the battery is discharged, the charger will automatically resume its continuous charging mode.
The Technical Specs
With an input voltage of 120V AC and an output voltage of 12VDC, the charger comes with a five-year limited factory warranty. It features push-button amperage control and is RoHS compliant. UL and CUL certified, it has an output power of 3A/8A/12A continuous. The portable charger is very compact in size weighing 3.1 pounds and measuring 7.6" x 3.5" x 9.8".
Charging Modes
This charger by Schumacher offers different charge modes to suit the needs of the user. The 12-amp mode adjusts the charging rate as necessary to keep the battery from being overcharged. In the 8-amp mode, the charger has a rate that is self-adjusting that is designed for everyday charging needs while charging the battery rather quickly. On 2-amp mode, you can provide smaller batteries, such as those for lawn tractors and motorcycles, with a slow charge.
Easy to Use
In addition to being a premium quality charger, the Schumacher SC-1200A/CA SpeedCharge 2/8/12 Amp Charger/Maintainer/Tester is easy to use thanks to its pushbutton switches that control it. Charging modes include slow, medium and fast with the ability to select which battery type you want to charge, such as regular, deep-cycle or AGM. The easy to read digital display is also a bonus feature that helps make the charger easier to use and read.
A Top Choice
The Schumacher SC-1200A/CA SpeedCharge 2/8/12 Amp Charger/Maintainer/Tester is a favorite among consumers. Being available for purchase since 2006, thousands of the units have been sold with the current retail price of Currently Not Available*. During 2015, the charger was the top-selling battery charger available. It is a popular choice for automotive, marine, motorcycle and utility vehicles.
Advantages to the Schumacher SC-1200A/CA
There are several advantages to this particular battery charger. It charges batteries quickly and offers a good value to consumers. It has a fool-proof design and is very flexible. It offers ease of portability and safe, secure charging of batteries ensuring they aren't overcharged. As an additional safety feature, 50-amp clamps are included and can be used on both side mount and top mount battery posts.
Other advantages include its lightweight and compact design, the easy to read digital display and the advanced technology incorporated into its design and operation so it can provide high-quality charging results. It offers easy operation and first-class results with the ability to charge a variety of different sized batteries ranging for everything from cars and boats to ATVs and lawn tractors.
Check The Latest Price On Amazon.com >>
Cons of the Schumacher SC-1200A/CA
No product is perfect. The disadvantages of the Schumacher SC-1200A/CA portable battery charger include its noisy fan operation, the cheaply constructed housing that can break easily, a poorly written instruction manual that is difficult to understand and its failure to offer automatic overcharge protection to prevent possible battery damage.
Another disadvantage is that the charger was not made to charge a battery that is completely dead and without any charge whatsoever. Instead, it is recommended to slightly charge the battery somehow before connecting it the Schumacher. This electronically designed charger is designed so it needs to detect a current before its charging circuits will be activated. While it is designed to be a safety feature, it can also be considered as impractical because the battery charger won't charge a completely dead battery.
Provides Quality Results
Priced affordably, the Schumacher SC-1200A/CA is known for efficiently providing quality results to users. Because of its easy portability, pricing and dependability, it continues to be a leading choice among consumers who are in need of a quality battery charger.
It has reportedly exceeded the results that are provided by the traditional, old-school style battery chargers that weigh anywhere from 10 to 15 pounds. Created with advanced technology with its digital electronic design, even the inexperienced mechanic or newcomer do-it-yourselfer can understand the operation of the charger as well as comprehend its readings.