Did you know that over 30% of your car's problems are due to the battery issues? I bet not. It is often unsafe and daunting to ask strangers to help you boost your car in the middle of a lonely road at 11.00pm on the night, isn't it? Or, picture your car battery starts getting issues in the midst of a highway, and you are left completely clueless on what to do next. This can put you in quite a fix, but with the Suaoki T3 600A 1800Mah Peak Portable Car Jump Starter, boosting your vehicle becomes a safe, time efficient and independent venture. Moreover, with its 1800Mah battery capacity, your car can effortlessly start about 20 times. All you need to do is to connect your vehicle to the device, and you are ready to go.
Suaoki T3 600A 1800Mah Peak Review
The Suaoki car jump starter comes with a 3-in one solution in a lightweight, portable, and drop resistant packaging. This deal is not only is efficient in jump-starting your car, but also serves as a power-hub for any of your digital devices (mobile phones, laptops, etc.) as well as providing an emergency lighting source for rescue or use in dark environs.
Opening the device
On opening the box, you will be nothing short of impressed. First, you are going to notice the heavy duty case. One, the quality is commendably excellent, and the stitching on the case is done all the way round with not even one loose seam. On unzipping the case, you will find two compartments with a memory foam enclosed. One side of the compartment holds the T3, and the other holds the cables, jumpers, plug in adapters and charging cables.
The model, rated at 1800mAH and is ridiculously easy to operate and with a cycle life of about 1000 times. Personally, I selected the black and bright green model because it is convenient and easy to spot in dark places.

Operating the device
To begin operating the device, you just slide the switch to the "on" position. If you want to know the percentage of charge that the instrument is holding, all you need to do is to press the power button to light up the led screen. The right side of the screen is the output which indicates the power to the USB output.
Pressing the power button once more will cycle different voltage levels. This is for the other output port which is used for connecting the device to other electronic devices like smartphones and laptops. Each time that you press the power button, it cycles different voltages through 12v, 16v, and 19v. Therefore, depending on which device you want to charge, you can select the appropriate voltage to be used.
Charging other devices
The device uses multi-cell lithium batteries that have a high capacity of 1800mAH. This capability is powerful enough to function as a power-hub for several devices; mobile phones, laptops, cameras, gaming consoles, you name them all on the go!
Suaoki's charging product variety has adopted an exclusive TIR-C technology, which typically detects the current of a particular electronic device through a built-in smart chip in the USB port. It then adjusts its output current to either slow down or speed up the device's charging process. This is not only efficient but also, it protects your device's batteries as it charges them at the most optimal speed. Excellent, right?
To charge other devices, just plug in the particular adapter into the input 15V/1a. Charging stops when the battery is full.
Light system
The Suaoki T3 600A 1800Mah Peak Portable Car Jump Starter is well-equipped with an extremely bright LED flashlight with 86 lumens brightness which can emit light beams up to 300 feet and can last a whole 120 hours on only one full charge. Moreover, the T3 has three different illumination modes which can be used in 3 different situations. Intense lighting- which can be very suitable during a power outage or when working on a vehicle in darkness, strobe light- which can be used when one is changing tires of a car or to alert traffic and the SOS flashing mode which is suitable for emergency situations.
The machine's light system is incredibly easy to use. Pressing the device's power button two times faster will turn on four extremely bright red blinking flashes. Similarly, pressing the power button twice quickly will switch it off. To activate the primary power flashlight, hold the power button down for about three to five seconds. You no longer have to despair when darkness finds you in outside.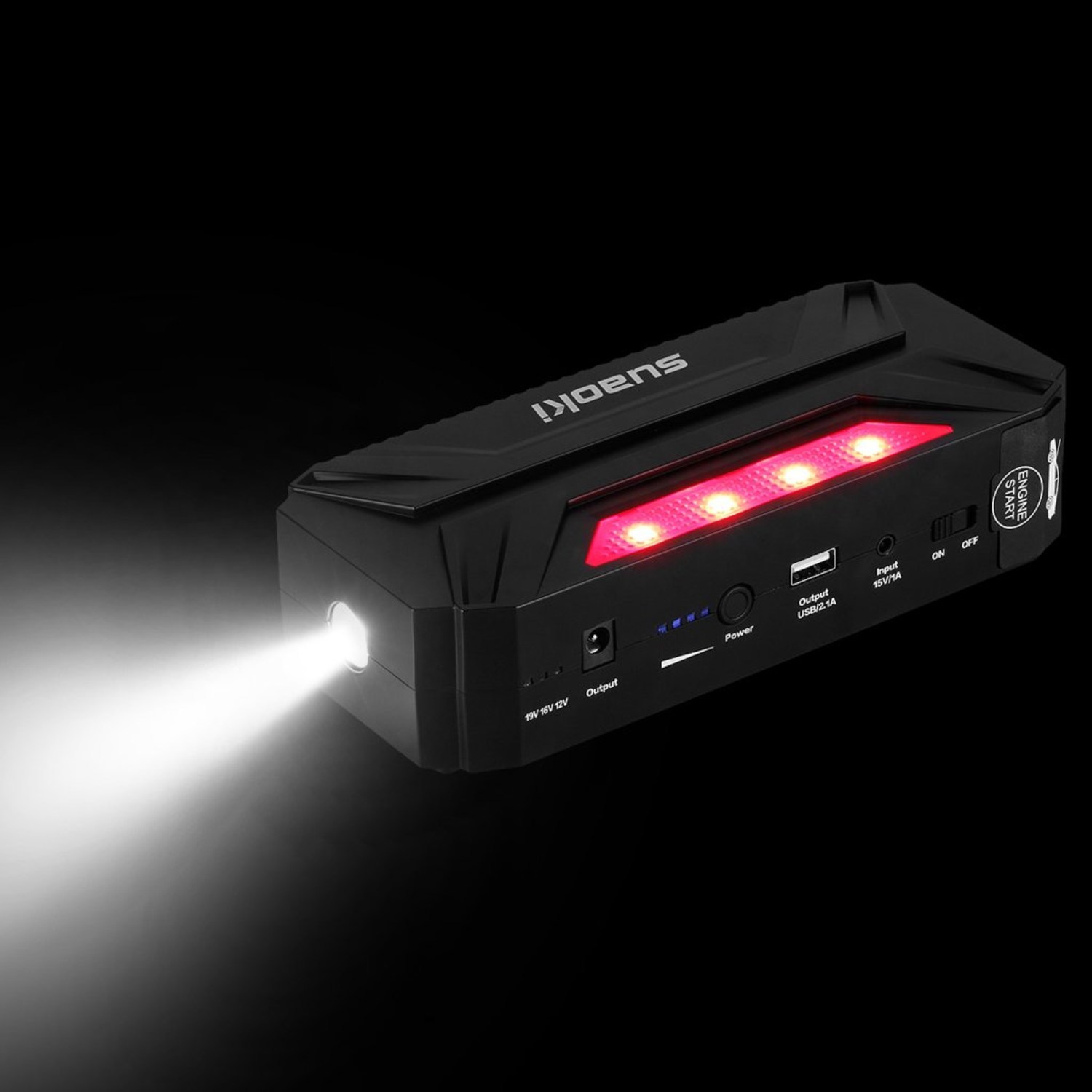 The jumpers
Thanks to the device's safe battery clamps, jump starting your machine and boosting your car's battery has been made safe and time efficient. The unit will fail to work unless all the clamps are correctly connected to the battery. This prevents any reverse polarity from happening or any short circuit issues. Additionally, its intelligent circuits help impede the device from overheating.
To use the jumpers, simply plug them into the front of the vehicle. The directions are right on the jumpers, and you are good to go.
Conclusion
Overall, the device and its quality are impeccable. I could not be any happier with my purchase given that I have tried three other different jump starters, and Suaoki T3 600A 1800Mah Peak Portable Car Jump Starter has proven worth the price. I completely love that the device does what it is expected to do and that it is very versatile. It far and beyond exceeded my expectations. Personally, I bought mine from Amazon.com, and I would do it again given the chance. I would recommend it to anyone going traveling, camping on if you have a car that has been giving you trouble. The additional power bank and flashlight are an added bonus.  In short it is a worthwhile buy for anyone who desires a just-in-case backup for their cars and the torch could prove invaluable in a crash situation or when you find yourself outside alone in the darkness.
Check The Latest Price On Amazon.com >>