Unlike in the past, the rules in the router game have completely changed. This is as a result of newer models of routers being introduced in the market. While this is a good thing, there are some consumers who end up being confused on the particular router that would work for them. There are different styles of routers with each of them having different capabilities. This is what has forced most woodworkers to have several routers for different functions in their workshops.
In the beginning, there was only one mid-sized router that came with a fixed base. However, that has now changed and there are so many different models in the marker with different power output levels, shapes and sizes as well diverse accessories.
In the recent part the compact router was developed and this has added to the diverse options that woodworkers have as far as wood routers are concerned. The combo kits have also become quite popular since they have been able to integrate plunge and fixed bases into one. This makes them a preferred choice for most customers as it seems to offer the versatility that most craftsmen need.
There is also the option of having several routers in your workshop. However, most people tend to get confused on which type of router to turn to for a particular routing task. We will look at the three common types of routers and provide tips which we hope can be of great assistance to your choice of the right size of router to use.
Sizes of Wood Routers
Generally, there are 3 main sizes of routers in the market, with each one having capabilities to handle specific tasks.
#1. Compact size
This is the smallest size of router available in the market. It is usually handheld and most woodworkers find it to be quite valuable especially due to its compact size. This router is handheld and can do almost any type of routing task that you may have. The only huge difference with the other large routers is the fact that they are just smaller in size. With this router you will enjoy variable speeds, they accept guide bushings and are available with both fixed and plunge bases.
To be able to make the most of this router, you should consider using it for small profiles like chamfers and round overs. It can also be able to handle narrow dadoes without a problem as well as work for small template routing when it has a plunge base.
There are quite a number of advantages that are associated with this compact routers. The light weight and ergonomic design and size are a huge advantage. You will certainly avoid fatigue when using this router as opposed to the heavier models. Certainly, this router has a number of drawbacks in that they cannot remove a lot of material at a go. The other setback is the fact that they can only work with bits that ¼" shanks since the motors cannot drive bigger router bits.
#2. Mid-sized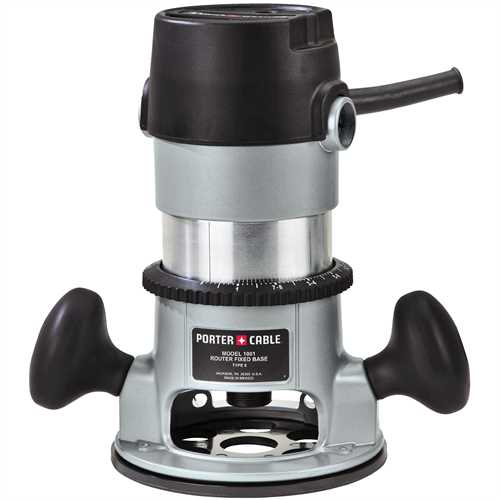 The next size of wood router is the mid-sized one, which is the average router as is medium in size as the name implies. They are commonly referred to as table staple routers and are commonly considered to be the standard size of a router. Unlike the compact router which is handheld, the mid-sized router will be mounted on a workbench securely so as to provide the support required for routing tasks.
These size of router is perfect for cutting cope, curving bowls and stick joinery. When you need to do joinery work, you will require some more horsepower and variable speeds which will spin the larger bits with ease. This also applies to cutting edge profiles that have large chamfer or those with round over bits.
These functions are considered to be the standard router tasks, but they are not limited to these tasks only since they can be used to remove a lot of material from a large bowl or rout dadoes that measure 3/4" for cape joinery. The mid-size routers have the power that is required to be able to handle these tasks without too much of a problem.
#3. Production size
This is the largest size of routers and you will only need it if you have enormous routing tasks. These routers have the capacity to spin large bits and can remove a whole lot of material with a single pass. In order to use this type of router, you would need to have sufficient space in your workshop. They are quite heavy and may not be ideal for mobile jobs as they prove to be difficult to move around.
One of the best examples is to make raised panels which is accomplished using this type of router. The raised panel router bits are 21/2 to 31/2 inches in terms of the diameter. They run at low speeds of 12,000 RPM.
When you are making the raised panels, you can save time by attaching the production router to a dedicated router table insert plate. Large bits require so much horsepower which can only be generated by such large production routers. It is imperative to have a large fence and opening on your router table so as to be able to use this size of router.
Conclusion
As you have seen above the three different sizes of router are suitable for varied routing tasks. Before purchasing a router, you should examine your needs carefully and consider the amount of space that you have. Your purpose will determine the size of router that you should use so as to get excellent results.
Take time to compare the capabilities that each size of router has so as to determine if it is the right one for you. Do not rush into buying a router or router table that may end up being obsolete in a couple of months. Put all future considerations in place when choosing the right size of the router to invest in.