Everywhere you look, you can find cheap beginner guitars that will be totaled after a year or less of solid playing. The FG700S Solid Top Acoustic from Yamaha is a step up from guitars that are more cheaply made. Yamaha takes great pride in their FG line of guitars, as they serve as a prime representation of their instruments. This guitar is great for beginners who want to learn on a decent instrument and for intermediate players who are on a tight budget. Advanced players will want to keep on looking. I did not expect this guitar to have such a rich tone. It reminded me of the instruments I see in many of the videos I've watched online, where professionals offer lessons and advice on acoustic playing. The immediate reaction to the sound is quite surprising.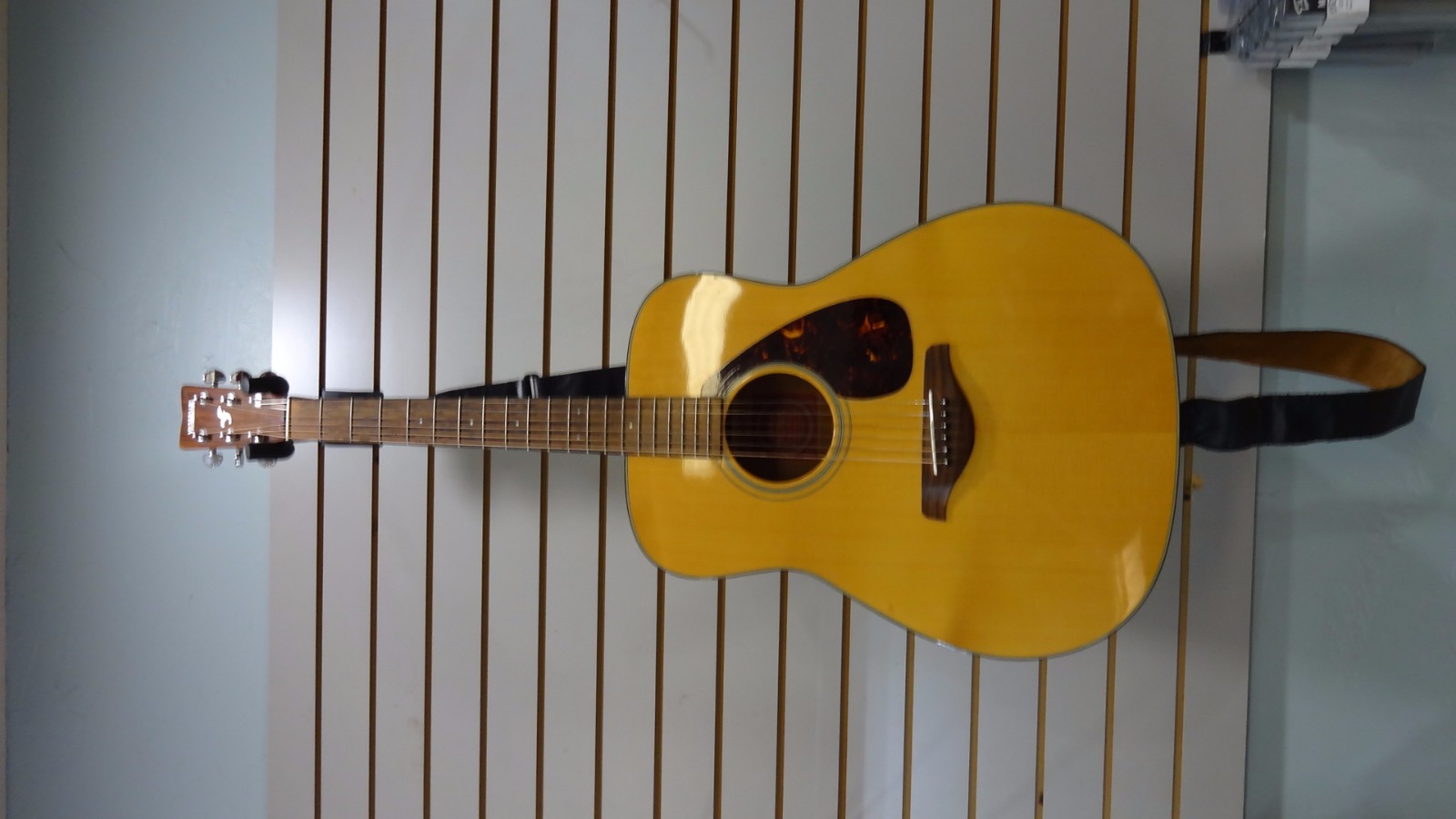 First Impression
As I played this guitar for the first time, I was impressed with how easy it was to feel comfortable. After an hour or so I felt as though this Yamaha had been my go-to for six months or more. Out of the box, it needed a tune but otherwise played well. I did not adjust the neck immediately. Only after I decided to learn a handful of songs in drop-D tuning did I do any work to bring down the action on the neck. I noticed that on the higher frets, the action does sit a bit high for someone whose hands are not calloused and used to playing. Fortunately, beginners are not playing on the high frets as much.
Thoughts on the build and parts
The truss rod is in line with the price of the guitar- it is not the best quality. Be gentle with the guitar and make sure you always keep it in a case or on a stand when it is not being played. I recommend buying a string winder with a bridge pin puller and a capo to help eradicate this issue. If you clean it and take good care of it, this guitar will last for many years. Also, get a dust rag and run it underneath the strings now and then. Unless you bring the action down significantly you should be able to take a pair of tweezers and guide the rag underneath the strings.
Perfect for progressing and growing
The biggest thing to consider with the FG700S Solid Top is the initial spend. Compared with many other beginner-level guitars, this one is a bit pricey. But if you are wanting to dedicate time and become a serious player, this is the guitar for you. It will smoothly transition into a nicer instrument when you reach that level. This guitar will serve you will for playing in front of small groups of people. It resonates very well in closed rooms so those listening will be able to clearly hear you playing. As a bonus, the tortoise pick guard and high-gloss natural finish make this instrument look much more expensive than it is. The drawback is that it is not an acoustic-electric. You cannot plug this guitar into an amp. I used it for a performance not long ago and had to bring along a microphone, stand, and speaker in order to amplify the sound.
How is the overall sound?
The projection and tone are great. It works well to help you work on your singing because the notes are very clear and can help you easily pinpoint if your singing is out of key. Overall this instrument has solid intonation and never left me feeling like the guitar was not playing at 100%. While I always advise keeping a tuner around, this guitar holds a tune well and as long as you aren't bouncing it around or leaving it to sit in a hot car it will stay in tune for as long as any guitar I've played. There are twenty frets, which is standard for an acoustic. The guitar also does very well for taking rock songs that are played on electric guitars and learning them on an acoustic. I also own an Ovation acoustic guitar but have found this Yamaha to be much better at transcribing songs into an acoustic format.
How big is this guitar?
At the 12th fret, the width of the neck is 2 1/8 inches, up from 1 7/8 inches at the first fret. The body is about 4 ¼ inches thick, and the main body of the guitar is 16 ¼ inches long. While certainly not a compact or travel sized instrument, the Yamaha FG700 is compressed enough that players as small as 5' tall should have no problem playing it. I would not suggest buying this guitar for small children.  When played with an adjustable neck strap, it is easy to accommodate any height taller than 5'. I personally play with the guitar held down around my mid-belly region. This guitar fits well there and causes no strain on my neck or shoulders (unless I play for more than a couple consecutive hours.)
Check The Latest Price On Amazon.com >>
Bottom line
The bottom line on the Yamaha FG700S is this: The guitar plays very well both for learning and light gigging, and while you aren't paying for a Martin or a Taylor you are getting as close to their quality as possible and saving a bunch of money. I highly recommend this guitar, especially if you are buying it as a gift for someone else. It will be immediately obvious that you did not just go to the store and buy the cheapest guitar available. Yamaha's website lists the MSRP at $325, but you can buy it much cheaper than that. I would not pay more than $200 for it. No matter your age, this guitar is a good investment that will serve you well as you progress into a mid to advanced level player. With its moderate price tag and durability, Yamaha FG700S Acoustic Guitar is a great bargain. You will be happy with your purchase